Shopping Cart
Your Cart is Empty
There was an error with PayPal
Click here to try again
Thank you for your business!
You should be receiving an order confirmation from Paypal shortly.
Exit Shopping Cart
Cathy's Chords
- songs for guitar, ukulele & banjo
Lyrics and chords to old folk songs and favourites from the 50's on.
Learn-to-play acoustic guitar and ukulele tips for beginners... and some banjo as well.
| | |
| --- | --- |
| Posted on December 11, 2019 at 11:35 PM | |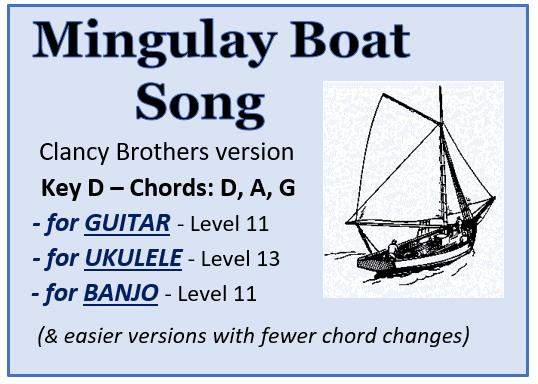 This is a stirring sea shanty which is good to play on on guitar, ukulele and banjo: it has a slow, regular pace, and the tune is easy to memorise. There are only 3 chords: D, G and A.
You may need a capo if it's too low to sing (the Clancy Brothers recording is in Eb, so capo 1), or you could transpose to a different key to suit your vocal range (e.g. Key G: chords G, C, D).
I've written out 2 versions; the second has fewer chord changes, so is easier to play, especially on banjo.
Here are the links to the PDF song sheets:
for GUITAR:
gL 11_Mingulay Boat Song_Key D
gL 11_Mingulay Boat Song 2_easy Key D
for UKULELE:
uL 13_Mingulay Boat Song_Key D
uL 13_Mingulay Boat Song 2_easy Key D
for BANJO:
bL 11_Mingulay Boat Song_Key D
bL 11_Mingulay Boat Song 2_easy Key D
Here is a link to a recording by the Clancy Brothers: https://www.youtube.com/watch?v=1ISTp09n4is
You can find the sheet music here (Key C): http://abcnotation.com/tunePage?a=www.alfwarnock.info/alfs/abc/accw02/0040
Categories: None
/