Shopping Cart
Your Cart is Empty
There was an error with PayPal
Click here to try again
Thank you for your business!
You should be receiving an order confirmation from Paypal shortly.
Exit Shopping Cart
Cathy's Chords
- songs for guitar, ukulele & banjo
Lyrics and chords to old folk songs and favourites from the 50's on.
Learn-to-play acoustic guitar and ukulele tips for beginners... and some banjo as well.
| | |
| --- | --- |
| Posted on December 14, 2019 at 3:25 AM | |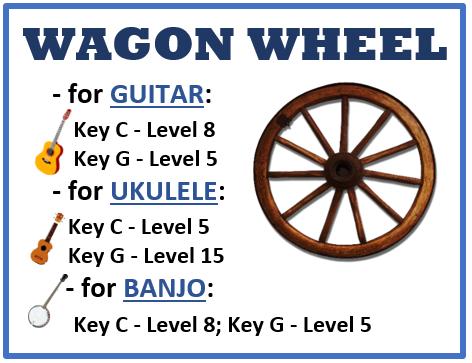 This is a fun song to do in a group; it has a catchy rhythm and works well with a variety of instruments and some vocal harmonies. I like the "Live at Daryl's House" version, as it's a bit more relaxed pace and you can see/hear the different instruments and voices (the link on the songsheets is to the official video).
Darius Rucker sings it in Key A, so I've written it out for guitar, ukulele and banjo in Key G (capo 2 to play in the recorded key); but we found that was not good for our voices, so I've done a Key C version as well.
The lyrics can be difficult to fit into the rhythm. I've left the 3rd verse off the song sheet, as it's really the chorus that's easy and fun to sing – you can repeat it ad lib. (You can always find the lyrics for the 3rd verse online if you want them).
Here are the links to the song sheets:
for guitar -
gL 5_Wagon Wheel _Key G (chords – G, D, C, Em)
gL 8_Wagon Wheel _Key C (chords – C, G, F, Am)
for ukulele -
uL.15_Wagon Wheel_Key G (chords – G, D, C, Em)
uL.5_Wagon Wheel _Key C (chords – C, G, F, Am)

for banjo -
B.L.5 Wagon Wheel_Key G (chords – G, D, C, Em)
B.L.8 Wagon Wheel _Key C (chords – C, G, F, Am)
You Tube clip – official video - https://www.youtube.com/watch?v=hvKyBcCDOB4
         Live from Daryl's house - https://www.youtube.com/watch?v=Cn4G-hE7JsE
Categories: None
/