Shopping Cart
Your Cart is Empty
There was an error with PayPal
Click here to try again
Thank you for your business!
You should be receiving an order confirmation from Paypal shortly.
Exit Shopping Cart
Cathy's Chords
- songs for guitar, ukulele & banjo
Lyrics and chords to old folk songs and favourites from the 50's on.
Learn-to-play acoustic guitar and ukulele tips for beginners... and some banjo as well.
| | |
| --- | --- |
| Posted on April 6, 2020 at 10:10 PM | |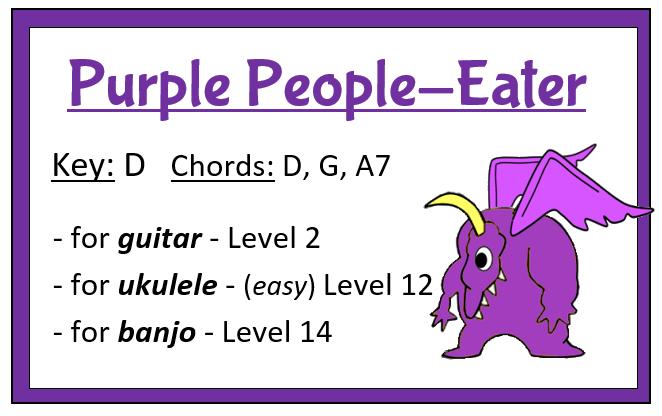 What a fun song this is! It's an easy one to do (just D, G, A7) on guitar or ukulele, and not too hard on banjo (especially if you swap an A chord for the A7).
I've written it out in the same key throughout the song, but in the recording, the key jumps up a semitone a few times.
The 'rising key' version is tricky to play, but if you want to play along with the recording, there's a few tricks you can use –
on guitar, just quickly slip a capo on for V.2, then slide up one fret for V.3 again at V.5;
for ukulele, you can use a capo as above, or play all the chords from V.2 as bar chords;
for banjo, you can play all the chords (except the G) as bar chords.
…
Here are the links to the song sheets:
….
for guitar - gL 2_Purple People-Eater_Key D_D,A7,G
….
for ukulele - Uke L.12_Purple People-Eater_Key D_D,A7,G
….
for banjo - B.L.14 Purple People-Eater_Key D_D,A7,G
….
There is a YouTube clip of the song (same key) here: https://www.youtube.com/watch?v=Rx47qrH1GRs
Categories: None
/